The Dinner Cruise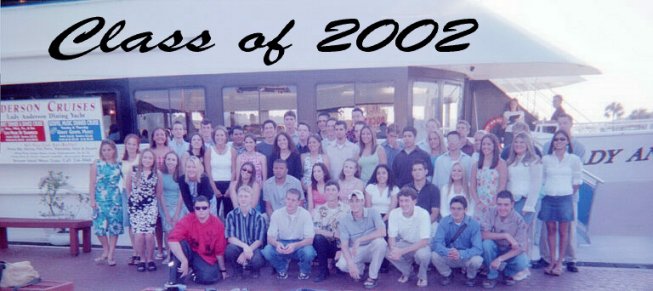 Imagine my surprise a month or two earlier when upon looking over the itinerary for our Senior Trip I saw a "Dance and Dinner Cruise" (emphasis added) on schedule for Wednesday night! I mean, heck, a cruise in the first place is totally awesome. But the actual word DANCE on a SACS-sponsored event? It's not like our bathing suit restrictions had been changed (you know how I always wanted to wear a speedo on retreats)! Perhaps the SACS Lions are sadly going the way of the Baylor Bears...but more about the evening later, now let's talk about the Lady Anderson!
The Lady Anderson was apparently the brainchild of Captain Anderson, who is still alive yet very old, and whose son was the Captain for our particular three or four hour voyage. We basically just went out into a bay and cruised around in circles. I guess the magic is supposed to be on the boat, not the ocean. Still, they time it right so that you're out there during the sunset. On the stairwell they have pictures of the Andersons and of the Lady Anderson's maiden voyage.



And speaking of ladies...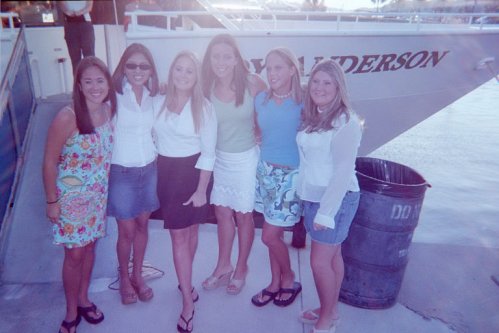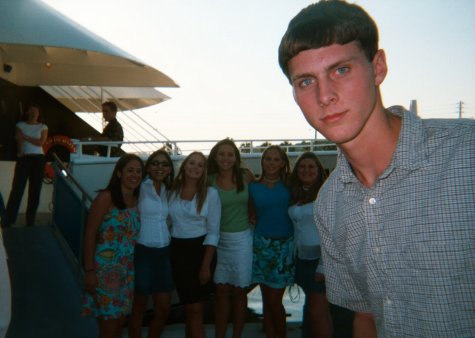 And speaking of maiden voyages...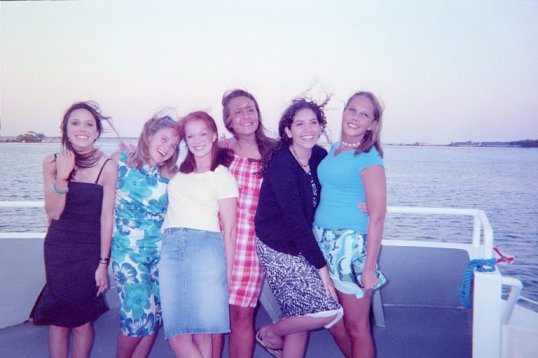 Here's the shot from another angle...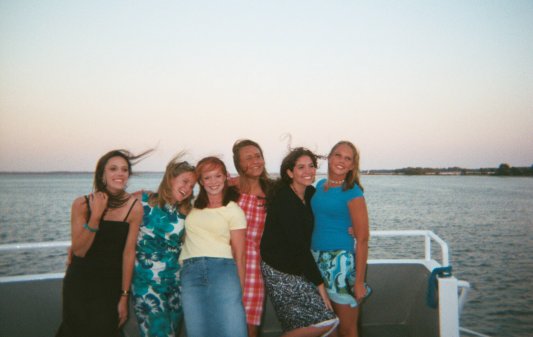 Yes sir, it was a virtual photo-op out there!





Anyway, we finally got on board. It was really nice. First class. All of the meal and everything was paid for, except for imitation bar drinks, but my good friend Bryon treated the whole table to drinks. We felt bad when it amounted to about $50, though, so I snuck a $5 bill onto his bunk later in the week. Anyway, we had the whole 3rd deck to ourselves (there were four I guess, unless it was the 2nd deck we had), so it was very comfortable as well. The food was a buffet; it wasn't half bad, either. In fact, surprisingly good and not so fancy that it was bad ya see?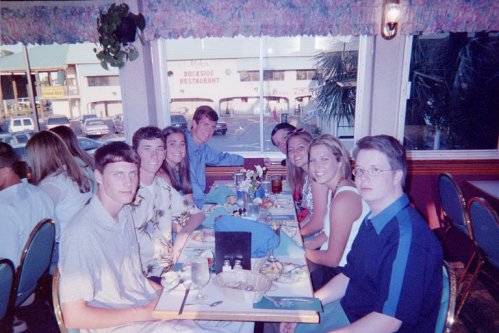 Here's the table I sat at. We had a good time of food, fun, and fellowship. I really liked our table; it was a mix unusual for our group. Really shows how mixable our class was.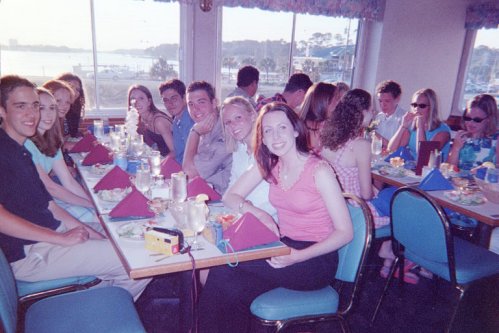 Other people sat at other tables, obviously. We see one of those other tables in this photograph.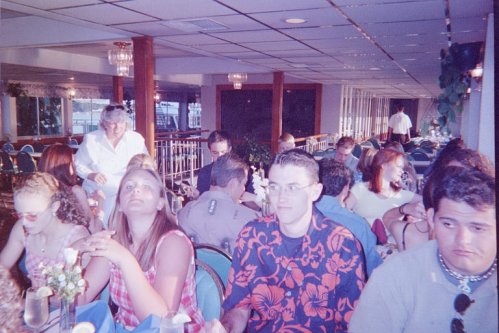 As you can see, the evening was a bit subdued at this point.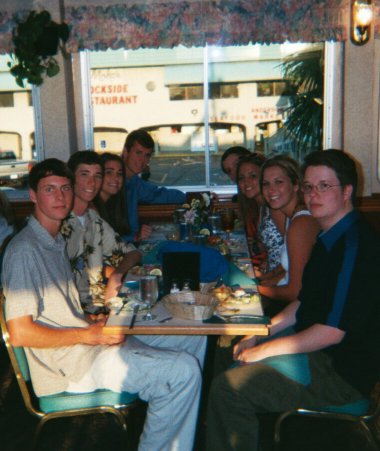 Here's our table again! The staff in general were really nice, and our waiter was kind enough to take several pictures of us.


As we began to set out the band started playing, but none of that unmentionable stuff started happening yet. However, once dinner was finished everyone was a bit loosened up and we explored the boat some more and basically enjoyed each other's company.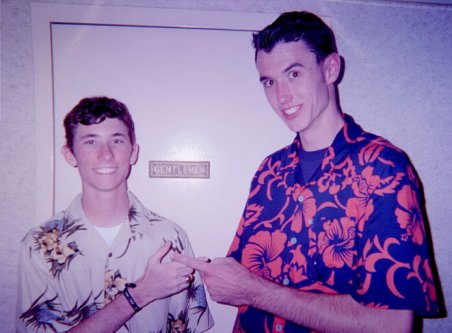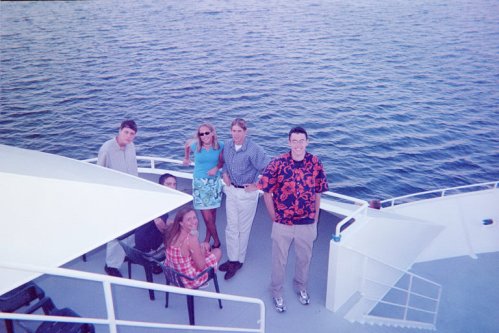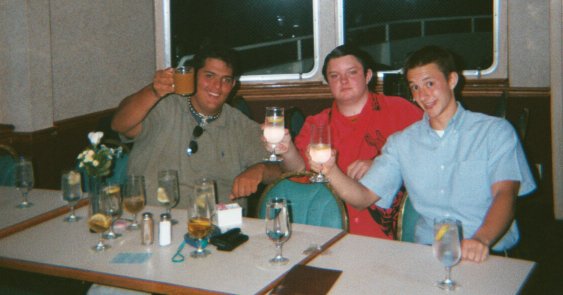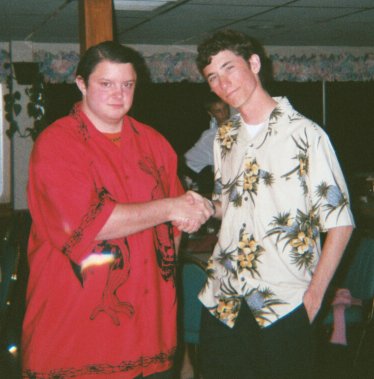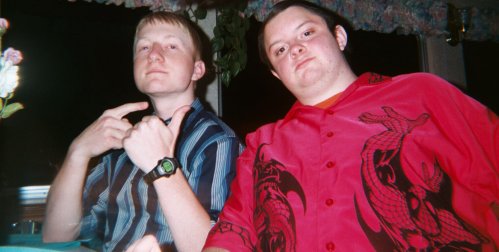 I think this is an excellent picture...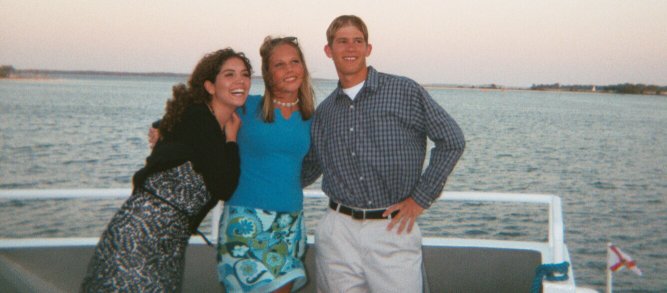 Yes, it was a lovely evening on the Lady Anderson and we were all enjoying ourselves.


...and as the evening wore on...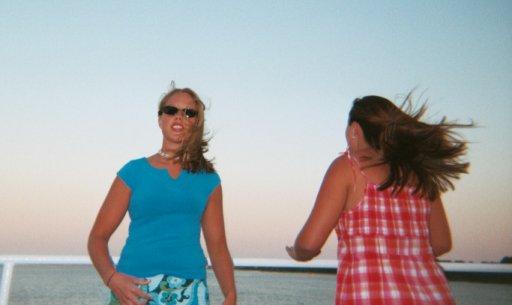 ...we just had more and more fun!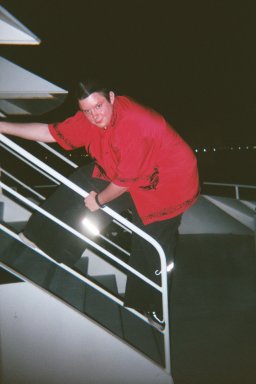 Bryon shows his patented 'free-style walking' move.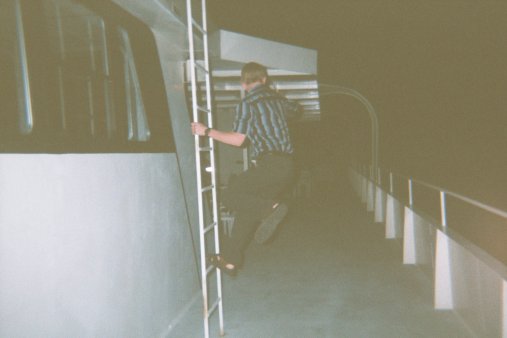 Mark displays some 'free-style walking' skills of his own.



Renee, Nate, and Mark celebrate their 'free-style walking' adventures.

And we were just warming up! The music started really playing, our bodies started swaying, the sun started setting, I started going a little loopy I guess...gee, maybe we better continue this in The Cruise Part II: Dinner & DANCE!