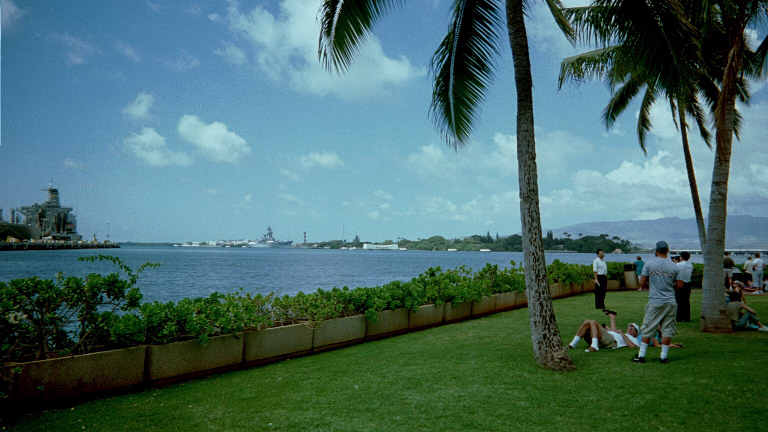 Here you can see a view of Pearl Harbor. That white thing in the center of the pic is the Arizona Memorial. You can see some Navy vessels as well.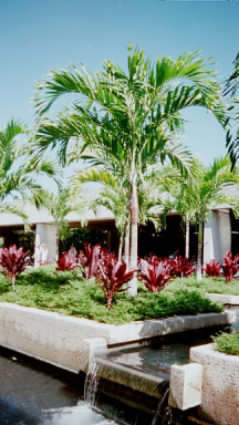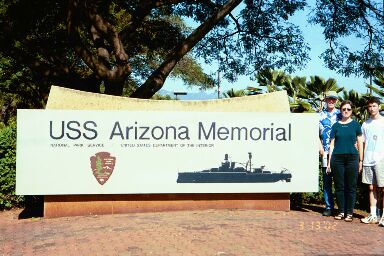 We got there early to make sure we could get a showing. They have this really beautiful courtyard in the waiting area (left). We got our tickets for the showing, but it wasn't 'til a little while laterz so we took the picture on the right and headed to the USS Bowfin historical park.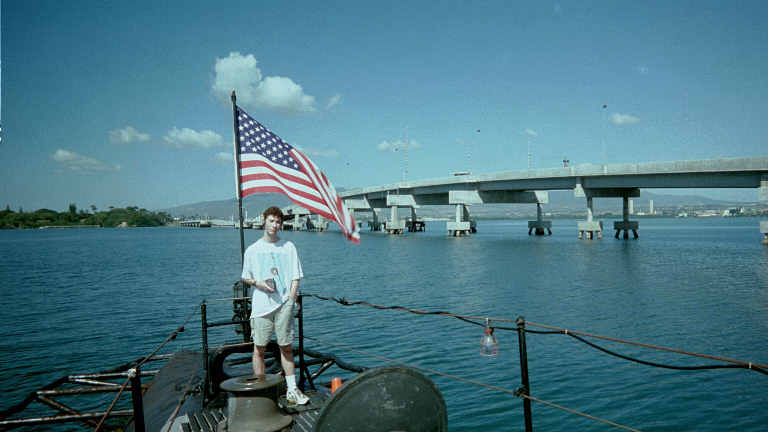 Here's a picture of me standing at the stern of the Bowfin. The American flag flaps proudly in the breeze as you overlook Pearl Harbor. That bridge behind me is actually RETRACTABLE to let Navy ships through (I overheard a tour guide saying that).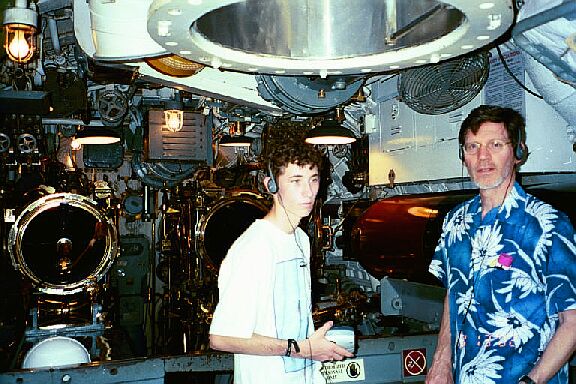 The USS Bowfin is a World War II submersible vessel nicknamed "The Pearl Harbor Avenger" because it set sail exactly a year after the attack and sank 44 Japanese ships. You can see Donald and I listening to tape cassettes; they give you tapes that the captain of the ship has recorded. He leads you through the vessel and tells you stories about things that happened on the ship. It was cool, although I don't think we were ready for this picture.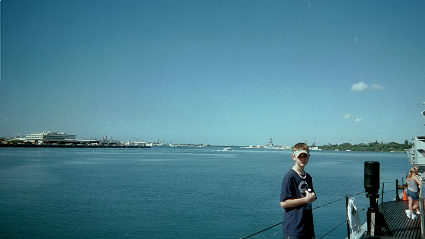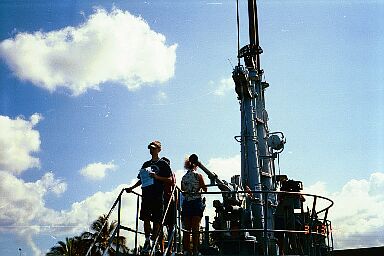 Here's some more pictures taken from the Bowfin.
Here's a picture taken from the ferry taking us out to the USS Arizona Memorial. You can see the USS Bowfin. I really liked the Bowfin, in case you haven't figured that out.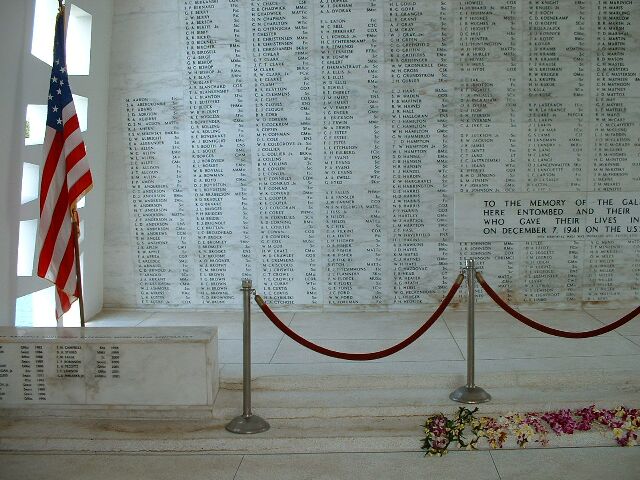 Here's a picture taken from inside the Arizona memorial. This one shows the American flag, the one below is a centered view showing leis people had laid down to honor the men who died.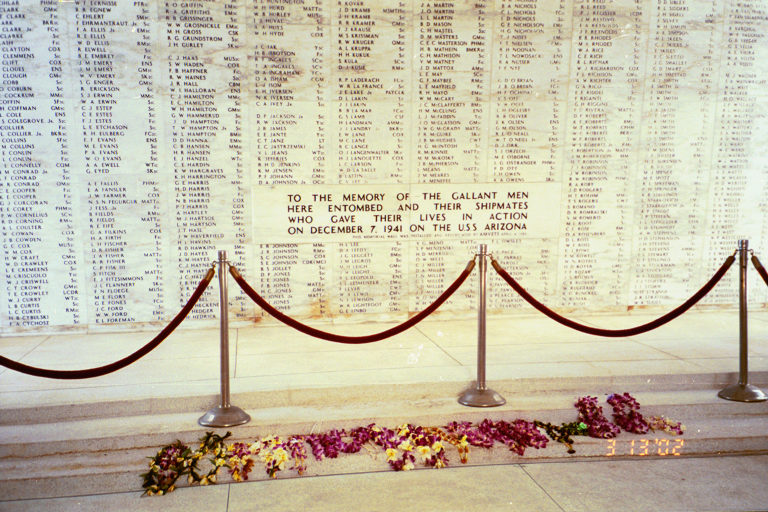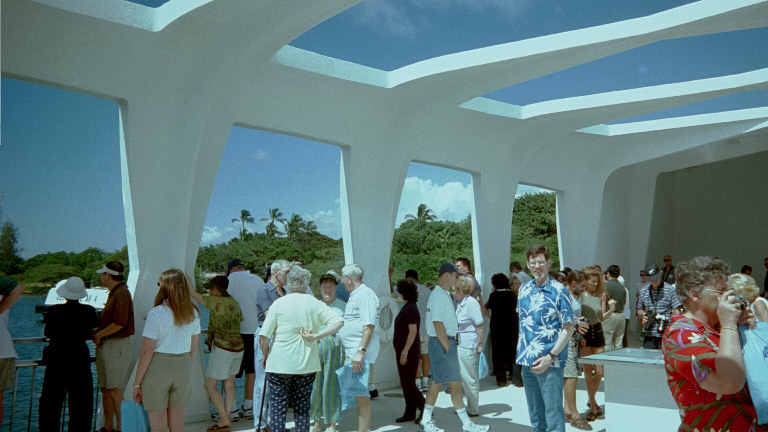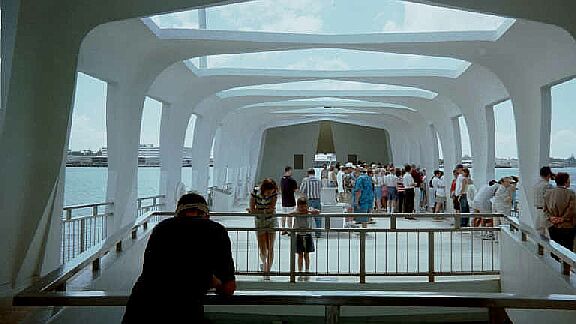 Here's some views from inside the Memorial. The ship is laying below, perpendicular to the memorial.
It sunk, trapping something around 1170 men (if I remember correctly), but resting upright on the bottom. You can see the ship, some parts peeking out of the water, some as much as 4 feet under water. It inspires thought and reflection.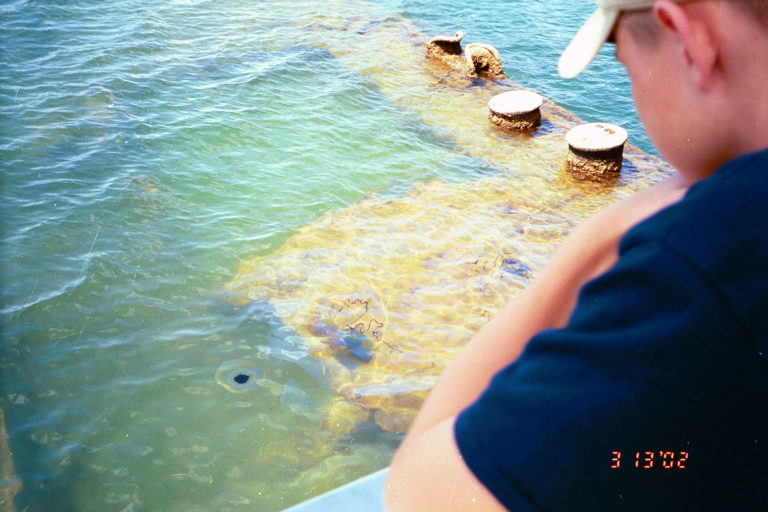 Jonathan looks over the side at the Arizona below. See that black spot, stringy thing, and the rainbows on the water? That's not a film-processing error, that's oil which still leaks from the hull of the ship, which sunk over 60 years ago. I dunno what it is about that oil, but it meant something to me.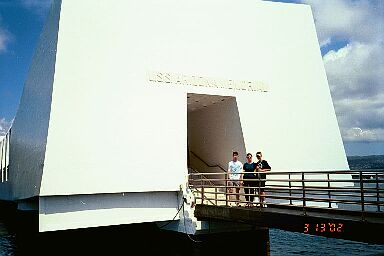 Mom, Jonathan, and I get a picture in front of the entrance of the memorial right before we have to leave.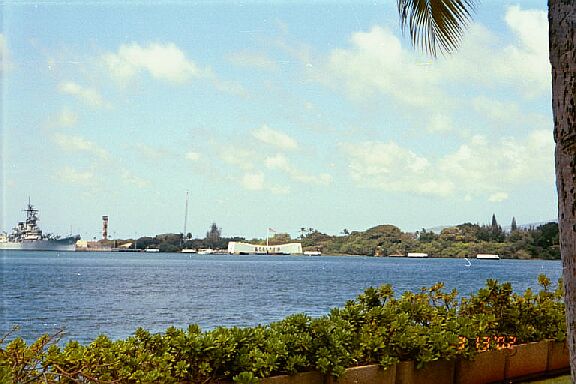 One more shot of the memorial from the park to send you on your way.