The first day we were in Hawaii, we went scuba diving. Jonathan and I took certification courses before the trip so we could do this. Here are some pictures from the boat of our scuba trip. If you want to see underwater pictures, talk to me.
Jared, the good diving buddy that he is, helps Jonathan with his wetsuit zipper.
We're gearing up for our first dive, a 91-foot-deep swim down to the Mahi, an intentionally sunk WWII minecrawler.
Here's a view of the dive. The Mahi is almost directly below us. You see a navy ship there on the right -- the Navy uses this area to train their divers and do some maneuvers and stuff.


Jonathan and I step off into the wild blue under.
The dive was a lot of fun. Jonathan and I actually went through the wreck and explored the bottom of the ocean. It was a heck of a lot of fun, ya know? However, it was time to go entirely too soon, so we headed back to the surface. Upon reaching the boat, we got ready for our next dive and relaxed a little bit.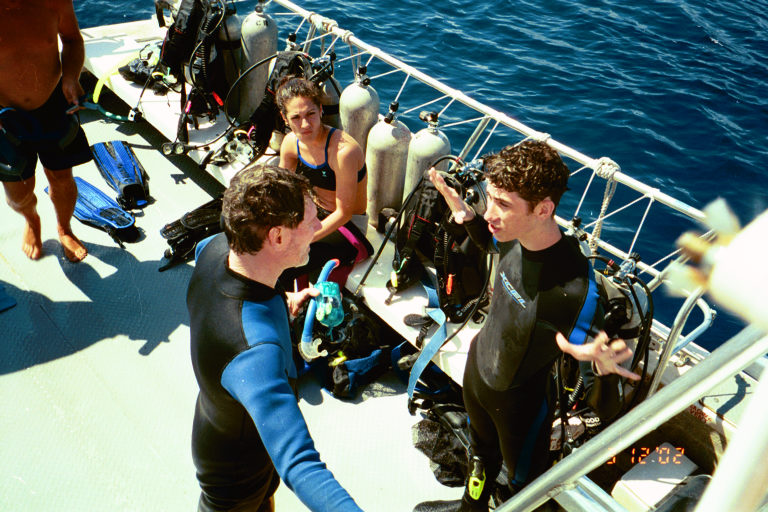 I'm telling Donald all about the fun I had at the Mahi. Maybe I'm talking about the huge group of Tang or the giant sea urchin we saw.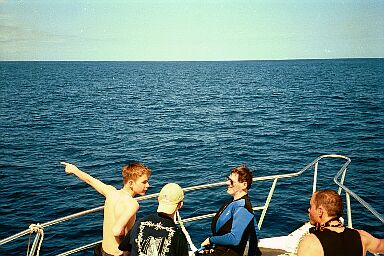 Jonathan is pointing at the storm that is in the distance as we travel to our second dive site. Our second dive site was the Makaha Caverns, but because of the storm we couldn't get as close as we would have liked. It was still a lot of fun.
This is what parents do while they are bored at the surface.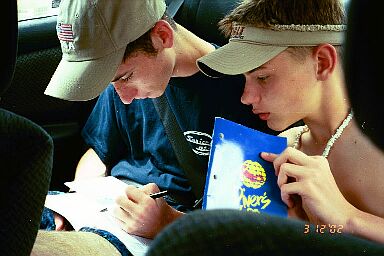 Jared assiduously fills out his dive log after the dives while Jonathan looks on.